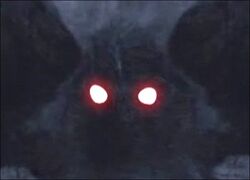 The following is a
list of references to the Mothman in popular culture
.
The Mothman is the subject of the Blitzkid song "Genus Unknown".
Television
Edit
In Season 5, Episode 4 of The X-Files, Detour, Agent Mulder hypothesizes that the supernatural events occurring may be related to the creature. However, Mulder refers to a group of creatures called the Mothmen as opposed to a singular Mothman.
In Episode 2 of the short-lived TV series X-Testers, the researchers attempted to duplicate alleged photographs of Mothman.
Mothman appears in an episode of Lost Tapes.
Mothman appears in a MonsterQuest episode.
On the television show Invader Zim the character Dib is a member of a clandestine organization called The Swollen Eye where his code name is "Mothman".
The Mothman Prophecies (2002)
Mothman (2010), a Syfy Channel original film
Eyes of the Mothman (2011), a documentary about the Mothman sightings
"Mothman Country" (2011), a documentary about Pt. Pleasant's contemporary relationship with the Mothman
The Luminoth, a tribe of mothlike humanoid creatures appearing in Metroid Prime 2: Echoes for the Nintendo Gamecube may also considered to be some kind of mothmen.
In the video game Castlevania: Dawn of Sorrow, Mothman is one of three Cryptozoology-based monsters along with the Yeti and the Flying Humanoid. It also appears again as an enemy in Castlevania: Portrait of Ruin.
In the Shin Megami Tensei series of video games, Mothman often appears as a demon that the main characters can use as an ally.
In the game GTA: San Andreas, the Mothman is said to be located in the desert.
Fallout 76:
Mothman is the alias of Byron Lewis in Alan Moore's graphic novel Watchmen.
Barker, Gray The Silver Bridge (Saucerian Books, 1970). Reprinted in 2008 entitled The Silver Bridge: The Classic Mothman Tale (BookSurge Publishing). ISBN 1-4392-0427-6
Coleman, L. Mothman and Other Curious Encounters. (2002). ISBN 978-1-931044-34-9 (or ISBN 1-931044-34-1)
Colvin, Andrew The Mothman's Photographer: The Work of an Artist Touched by the Prophecies of the Infamous Mothman (2007). ISBN 978-1-4196-5265-3
Colvin, Andrew The Mothman's Photographer II: Meetings With Remarkable Witnesses Touched by Paranormal Phenomena, UFOs, and the Prophecies of West Virginia's Infamous Mothman (2007). ISBN 978-1-4196-5266-4
Sergent, Jr., Donnie Mothman: The Facts Behind the Legend (2001) ISBN 978-0-9667246-7-7
Fear, Brad A Macabre Myth of a Moth-Man (2008) ISBN 978-1-4389-0263-0
Keel, John A. The Mothman Prophecies (2007). ISBN 0-7653-4197-2 (Originally published in 1975 by Saturday Review Press)
Keel, John A. The Eighth Tower (1977). ISBN 978-0-451-07460-7
Myers, Bill. Angel of Wrath: A Novel (2009). ISBN 978-0-446-69800-9
Ressel, Steve. Perverted Communion (2010). ISBN 978-0-9787483-5-7
Rust, John J. Dark Wings (2011) ISBN 978-1-4658-4541-2